Post by waywardmonk on Feb 15, 2017 22:07:49 GMT -6
I got into these figures because of a post on another board by a great guy that used to be a member here: Lenzy. He found a number of them at flea markets and shared his finds. Several of us recognized the similarity to the, at the time, unidentified 9" vinyl skeletons. I immediately fell in love with them. That was late 2015. Since then I've tracked down a number of them and identified some of the lines. Here's what I've gathered so far.
Hinstar seems to have been a toy importer in the mid-late 90's. They sold a lot of budget knock-offs of Polly Pocket, Mighty Max, 6" She-Ra style girls figures, ninja & superhero figures and a slew of 9" scale vinyls cashing in on popular franchises like Disney, Street Fighter, Hercules, Gargoyles, and some I'm not sure what they were knocking off. Other importers seem to have gotten hold of molds or regional distribution, so they are not always official Hinstar products, but like the "Mannix" association, referring to them all as "Hinstar" makes it easier to collect information on them all. Figures can be stamped Hinstar, HIL, have no stamp, or bear the stamp of a different importer/distributor. One of the interesting quirks about Hinstar figures is that most lines were released in various assortments of single carded/boxed, 2-packs, and playsets (which were just single packed but with more accessories.
The 6" figures are hit & miss, but these were pretty nice:
1995 Hinstar 6" Legend of Wild Girl. It's almost a complete set, just missing 1 sword. The figures and accessories are all nice, sturdy quality. I'm not a big fan of rooted hair and let them go, but I'd probably pick them up again if I found carded examples. They were released single carded with these accessories and in 2-packs with less accessories.
1995 Hinstar 6" Mighty Phantom Ninja. The coolest thing about these generic ninja knock-offs are the masks. But they also come with a bizarre ball firing mechanism in their abdomen. They shoot hard plastic balls with impressive force. The figures are nice hard plastic, but most of the weapons are soft and floppy. They also released these in primary colors with less accessories and without the cool masks.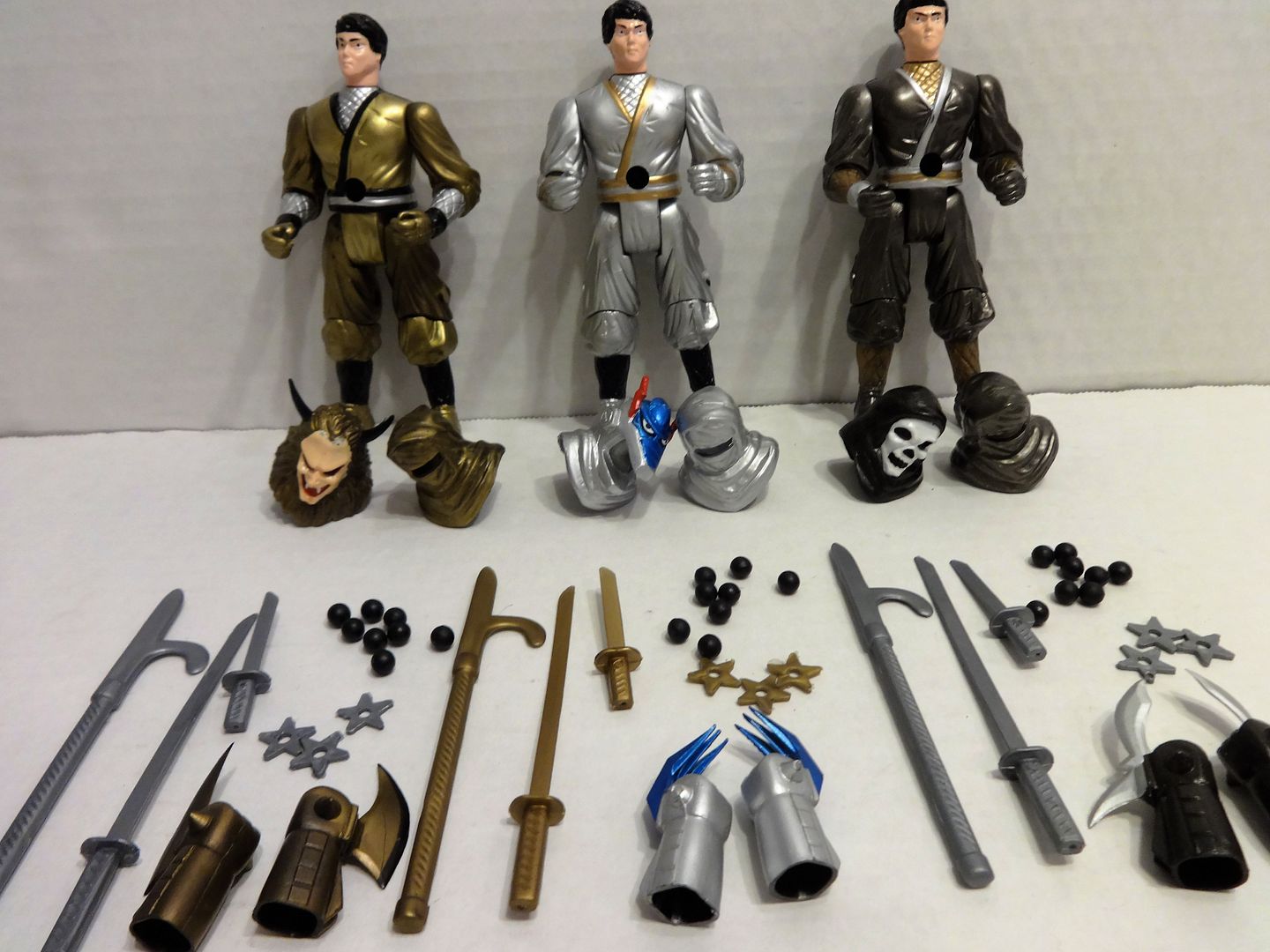 They also released a few jumbo 11.5" figures in 1995 called Super Ninja, but the body style and accessories are less interesting than the 6" figures. They do come with the same masks plus retractable blades on their feet which is cool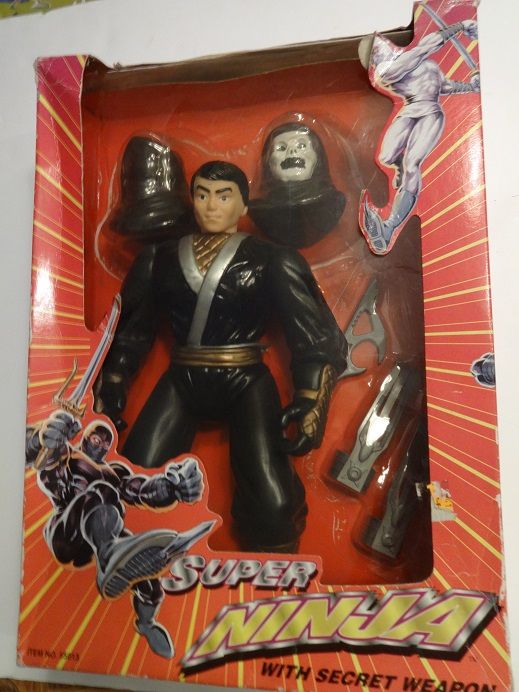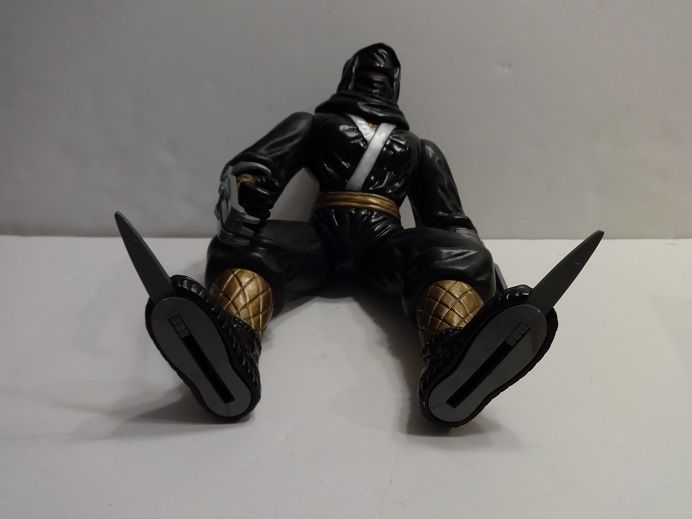 What I really love though are their 9" Vinyl figures! They are hollow vinyl, attractively designed and sculpted, with a host of fun accessories. Vinyl varies from soft to hard throughout all the different series and releases. They generally hold up well, but a couple softer figures I've found with some unfortunate warping.
1994 Hinstar 9" Skull Force. Skeleton Warriors knock-off. These skeletons are super cool and glow in the dark! I've seen a carded picture and they come with weapons with a little skull head on them. There are 3 known and it is believed there are no more. Most of Hinstar's offerings seem to have larger assortments though, so I'm hopeful more will turn up. However this is one of their earliest releases so it could be true. I only have two shown here playing with a ROTU skeleton.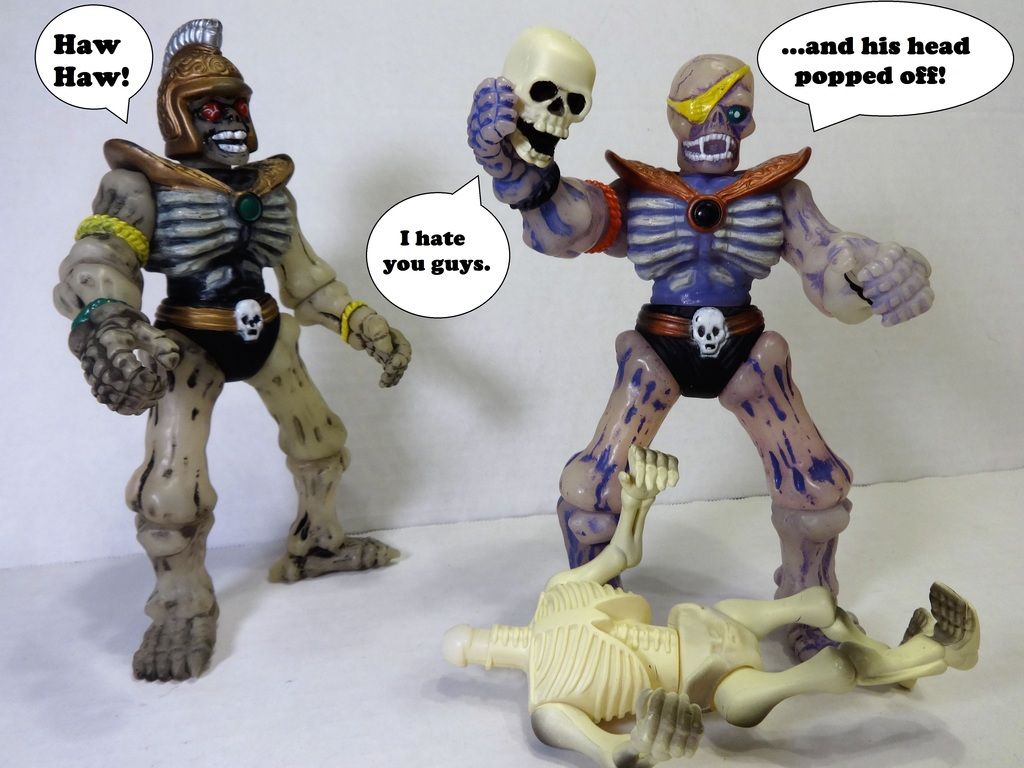 1995 Hinstar 9" Saga of Hercules. Knock-off of, you guessed it, Hercules: The Legendary Journeys. These are a little Generic, but check out the Minotaur on the box back! I've never seen one, so it's possible it was never released, but I suspect it was because the body was used in another Hinstar line (keep reading). I have not seen the Hercules in black either though.
Single packs: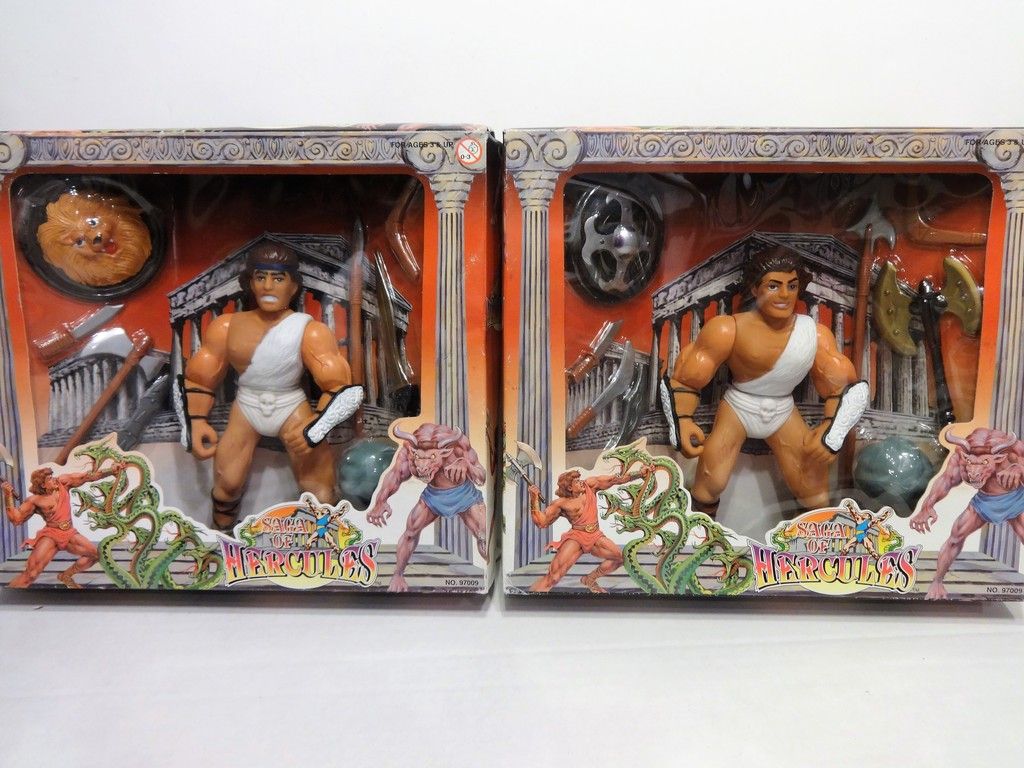 2-pack. There is at least one other two-pack with a hydra toy.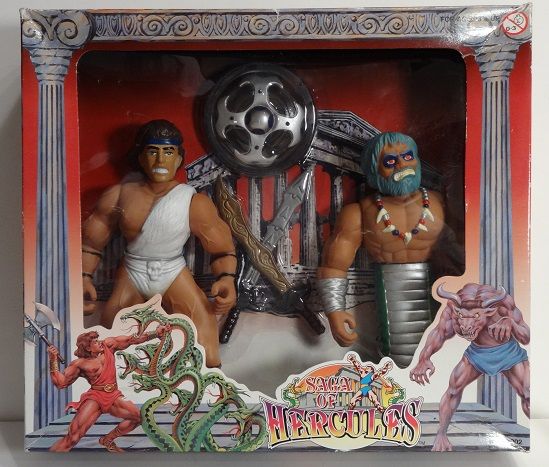 1996 Hinstar 9" Hell Angel. I'm not sure what this is knocking off. Looks like Mad Max, but the timing is too far off. Maybe they're inspired by Ghost Rider which Toy Biz had a series of. These figures use a different leg mold which is straight and makes the figures about 1/2" taller than the other 9" Hinstar figures. They come with some cool accessories and paper-thin pogs. I've seen these in 2-packs as well.