Post by countzackula on Jan 29, 2015 9:06:32 GMT -6
Looks like the Joe Club took extra long to get the third wave of their Fan Subscription figures to us. But all is well now. So far, it was worth the wait, as you may or may not read. The third wave consists of a lot of "normal" versions of Night Force characters we got in the Con set from two years back. Last year we got the Zombie Initiative set, and the year before was a split of Night Force characters and some gaudy, yet cool Cobras and modern versions of foreign exclusives.
The first set of two characters are both Joes, and both from that Night Force set. As usual, I'm a bad guy fan, so I was hoping we'd get at least ONE Cobra right off the bat. First up is Repeater.
Pretty standard realistic military figure. I never had Repeater as a kid. I mean, he's a cool figure as is. I like the idea of somewhat realistic military specialists battling sci-fi super villains. While I normally swoon over the weirder Cobra characters and the occasional oddball Joe, I do like to get a good mix of almost totally realistic and somewhat goofier figures. We got that in this first set of FSS figures.
He's a repaint of the Night Force Convention figure with a few accessories added and some taken away. He still has his head sculpted by Boss Fight studios, though. "Regular" Repeater comes with a rifle and bipod, a pistol, knife, removable vest, and backpack...oh, and a base (not shown). The belt was added and was the holster and pouch at his sides. Most notably missing is the huge gun and ammo backpack apparatus the convention version had. Heck, I don't think I ever talked about that set anywhere online, now that I think about it!
Quick shot of the single carded club release and the convention version. Like a bum, I didn't dig out the weapons, but oh well. Live with it. I know I can. The thing about Night Force is that a generally am okay with it since the colors are generally pretty decent. All the weird unified color scheme special teams usually come across as crappy to me, for the most part. Tiger Force? Bleh. Special Missions Brazil? Meh. Slaughter's Marauders? Yuck. Python Patrol? Mmmmmm...the more modern ones from the mid 2000s are actually kinda cool. If they'd have never gone back and made this original version, I would have been okay. I like both versions of Repeater, regardless. True, he seems a little light in the accessory department, but he's a beefier figure, I suppose. If you go for the more sci-fi looking guys, Repeater may seem almost too normal. However, he's a generally great figure that captures the feel of the classic, and is a welcome addition to the Joe ranks.
The second figure we got is the classic version of Psyche Out. I also never had this guy as a kid, but seeing him on packages and in catalogs, I was drawn to him since he stood out, visually. As I stated before, I'm drawn to the more sci-fi looking guys, but still like the realism aspect. Psyche Out definitely treads closer to the realm of sci-fi for me.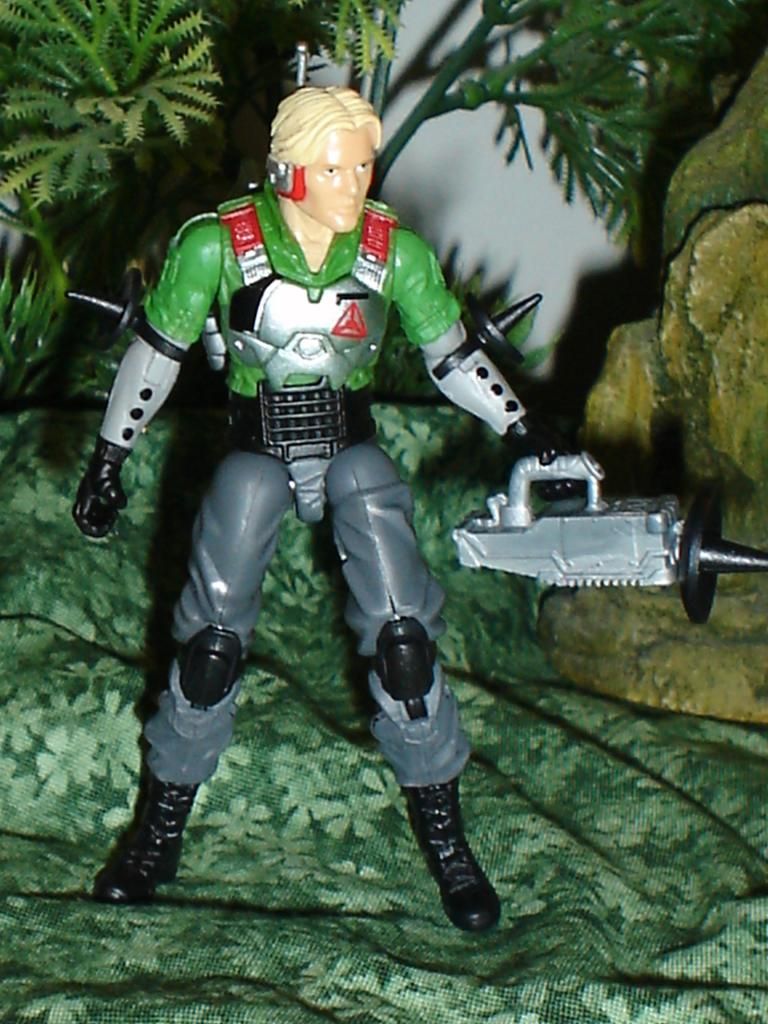 From his bright green shirt with armored padding, to his odd head gear, to his numerous weird rader dish accessory thingies, Psyche Out screams "oddball". I like him. I'm no expert on military stuff, but psychological warfare is nothing new and technically nothing to do with science fiction, although all those weird devices Psyche Out has seems to imply using science to broadcast all kindza crazy subliminal stuff to screw with the enemy's heads. If I remember, the old filecards stated that all that gear was an advanced psychological behavior altering system. The new one seems to dial it back and mention that they are mere devices used to hijack enemy airwaves and such to sew seeds of disinformation. Still...I think it's all pretty cool.
Psyche Out comes with a rifle, pistol, radar gun thing, two armband antennae, and a backpack. The armbands are my only gripe as they are kinda loose...then again, the Con version had the same problem. GI Joe accessories are not always perfect. They changed the backpack from the Night Force set as well. Looks like Zartan's old backpack mold was used. It still opens, so you can store the pistol or the armbands in there. Generally, and great modernization of a classic GI Joe!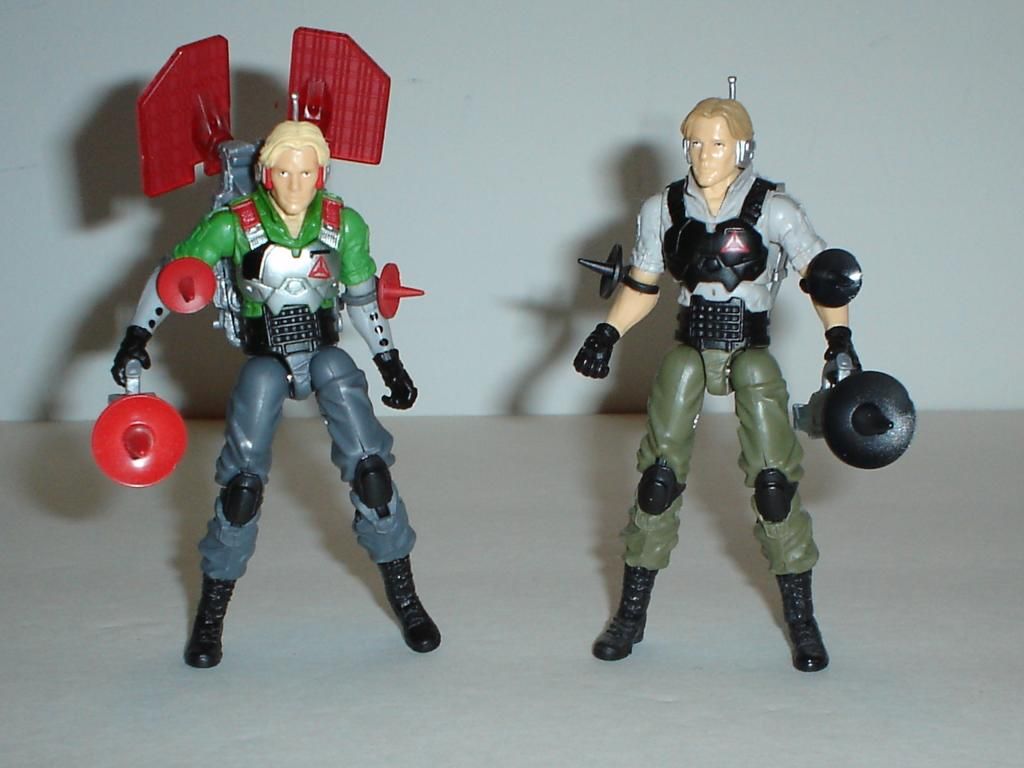 Lastly, a dare-to-compare! I actually like aspects of both versions, as I did with Repeater. One odd thing to note is that the Night Force and regular version had the colors on their satellite dish thingies reversed. Not sure why the club did that. The original Psyche Out had red dishes and his Night Force version had black...you know...for nocturnal emissions (heh). Well, now you can switch it up and make both versions a little more accurate to their classic counterparts. True, the backpacks are now totally different, but I honestly don't mind at all.
Psyche Out is a really cool figure that I always wanted. Glad to have both versions. It is a bummer if you didn't get the Con set and this one so you can patch together a proper, classical Psyche Out. I did, thankfully...and I quite happy with it.