Post by countzackula on Jan 8, 2013 21:26:14 GMT -6
Okay, a new line of action figures came out that kinda has...an
old soul
, if you can say. These are the first offerings from Zoloworld's REALM OF THE UNDERWORLD. They use the old Remco molds from such classics as Warlord, Conan, and Warrior Beasts. As you may or may not know, all those were lines made in response to the Masters of the Universe craze of the 80s. So many knock offs of MOTU were made! Anyway, these are made in the spirits of olden times.
Now...I gotta get this outta the way, here. You may have heard of another line that was gonna come out called Warlords and Warriors. Yeah, I did too. I was kinda into it...wasn't sure if it would pull through (I'll admit it). I didn't pay super-duper heavy attention to it and figured I'd wait to "get serious" about it if and when it got made. Oddly enough, saw someone flashing these babies in another forum and I couldn't help but furrow my brow and think, "Wait...weren't these going by another name? Did they drastically alter the designs, line name, and colors of the figures THAT much?". Well, I'm kind of a geek about toys, but I'm not as hardcore geeky anymore to follow every little bit of info on such things, but I basically heard it through the grapevine that there were
issues
surrounding Warlords and Warriors. Yeah, I know a couple a guys here were working on that line. Not trying to fuel any fires or spark any rage or anything. No offense guys (eh, you know who you are). Just, you know...saying, is all. That's what I heard. So now we somehow got Realms of the Underworld. So here is my brutally honest review on 'em.
Packaging is eerily similar to the old Remco KOs of yore, to an almost pleasing level. I almost felt bad ripping 'em open...so pristine and what not. The cardbackers are sturdy enough without being heavy duty. Plastic bubbles seem to be well constructed and glued nicely...although to me? Just garbage now (I'll save one for reference, though).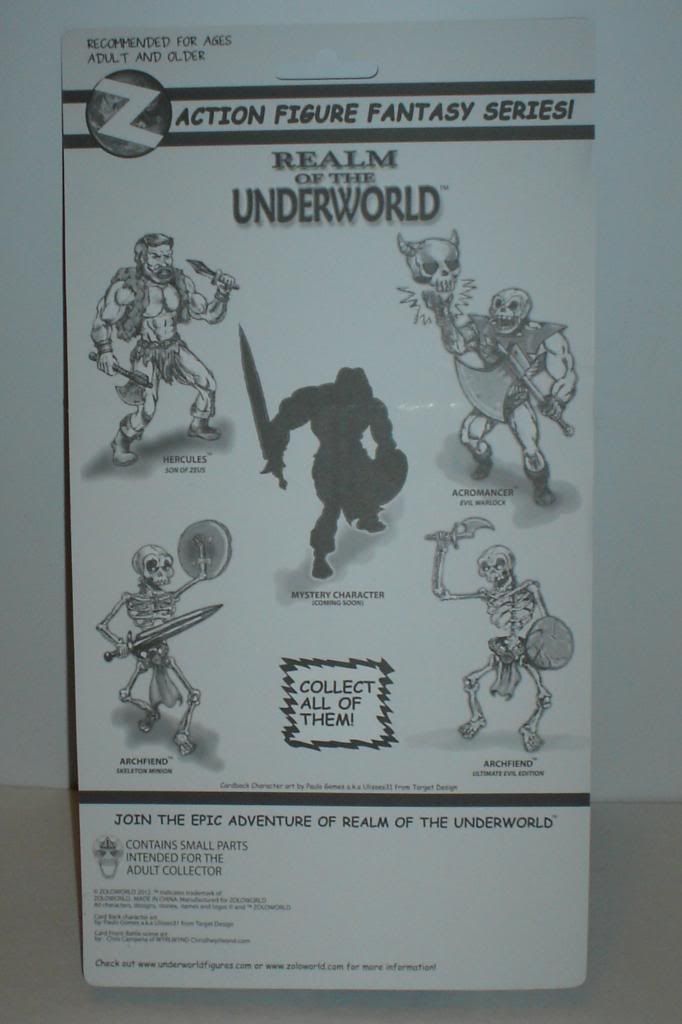 The back is the classic setup...show off all the available characters. There's info on the artists and such, links to the websites, etc. You'll not e the original artist for Warlords and Warriors is now gone, as well.
To start off, here's the lone good guy of the line, Hercules!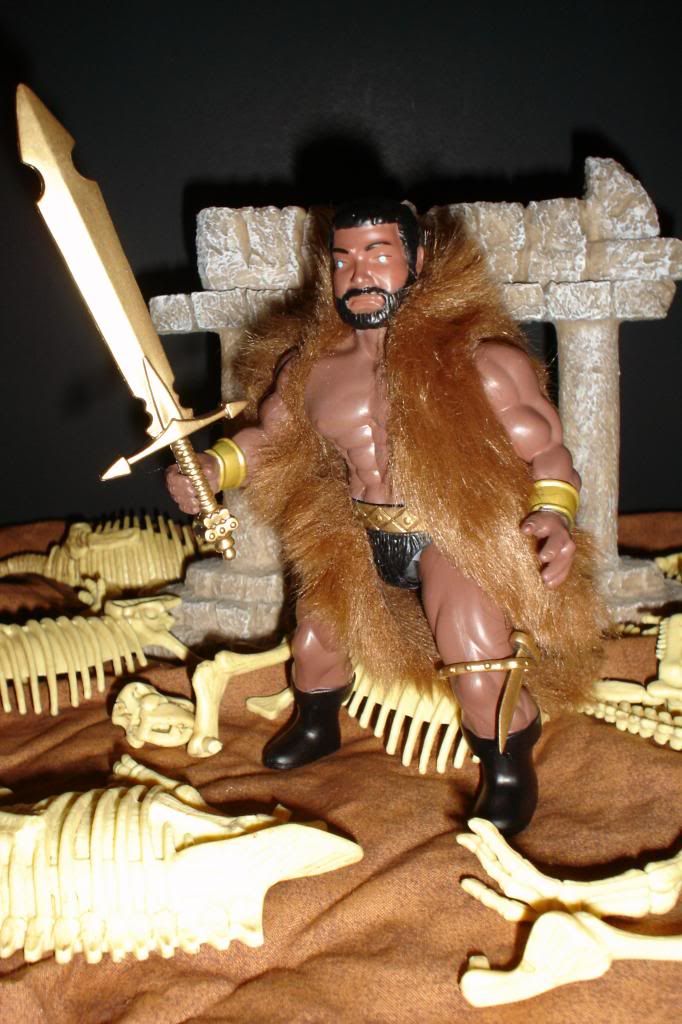 I'm pretty sure his head is based off a wrestler figure from back in the day...not sure who he was since I don't follow wrestling. Eh, look it up for yourself...make an adventure out of it! Anyhow, he looks really good. I like the choice of colors. I see they made him really dark-skinned and Mediterranean or Greek-looking. Nice. Better than the usual long-haired white guy most Hercules incarnations look like. He even has his fabled Nemedian Lion pelt to wear. He even has green eyes...just like...OLIVES! Oh, so Greek! I'm gonna call my buddy John Stamos over, and we'll have an Oikos party! I'm so excited!
And in case you want to grease him up with wrestling oils and not get his cape dirty...yes, the fur pelt is quite removable...as is his knife garter.
You'll also note the illustration has him holding different weapons than the ones he came with. I like his big gold sword, though. Now, if that sword was bronze, that mighta gotten taken as some kinda inuendo, huh? Sickos.
Now the way the fur pelt comes on him is weird. I know in a lot of Greco-Roman art, Hercules is often seen with his lion pelt in different swarthy positions, wrapped around his mostly nude body...so I guess I can get behind the odd way the Zoloworld boys clad him. He kinda has one arm and one leg in a hole, and his other arm through a big hole. You take the fur off, and you can see it's designed more symmetrically.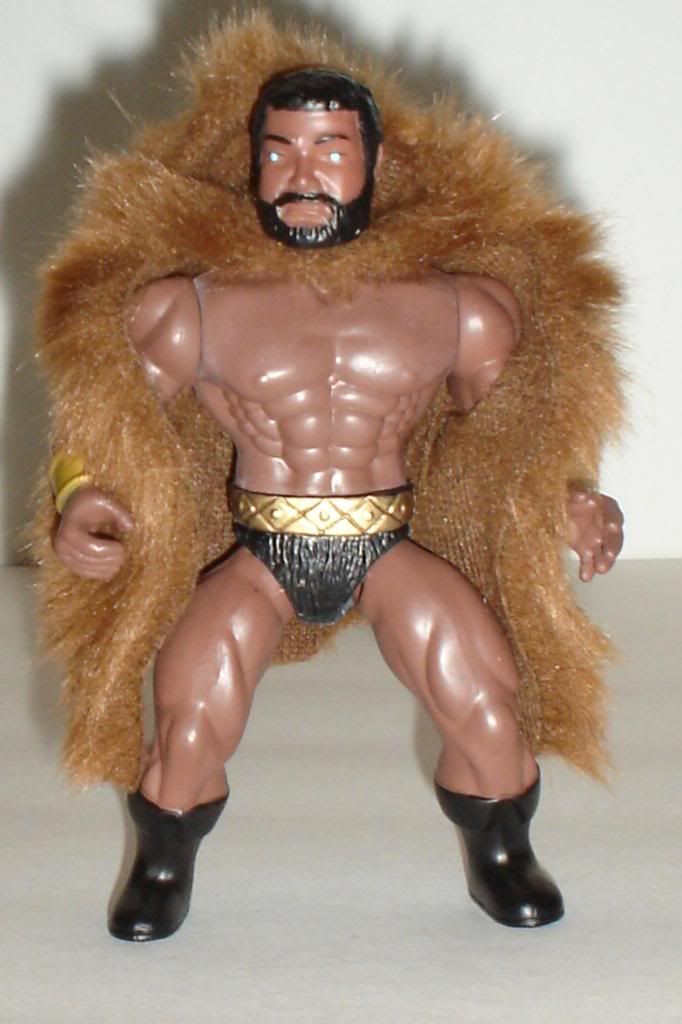 If you want a usual cape or vest, it can be done. You can even give him a hood for wetter, colder weather...even though he IS Hercules and probably don't care.
Oh, and CRAP! You're probably wondering about construction and paint and all that jazz, huh? All in all, pretty sturdy. The plastic is harder than al ot of the old Remco figures like these. Paint seems decent for now, but I haven't knocked 'em around yet. Articulation is okay...not too loose, but not really tight. In time, we'll see if they hold up, materials and construction-wise.
Now, back to the characters!
Next are the two Archfiend figures. Here is the plain old archfiend.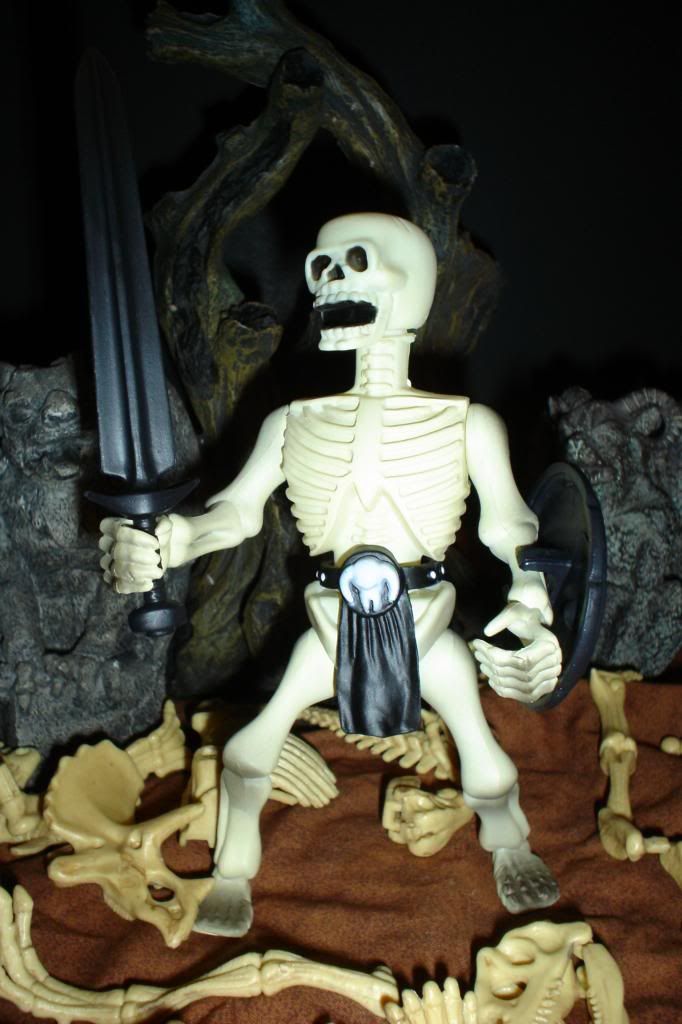 Many agree this mold was one of the best 80s figures in terms of iconic-looking, yet kinda goofy toys. This mold got used twice in Pirates of the Galaxseas. Now, it's back!
Comes with a sword and shield, and a pee-pee flap to gird his non-existent lions. I'm not sure if this lion cloth is all-new or not, or even if it was a Remco mold. Gotta look that up! I'm slackin'! My only gripe is that he's kinda dull, at least in terms of color. I wish they'd have played up the blackish highlights a tad more...especially on the central body. That's about it.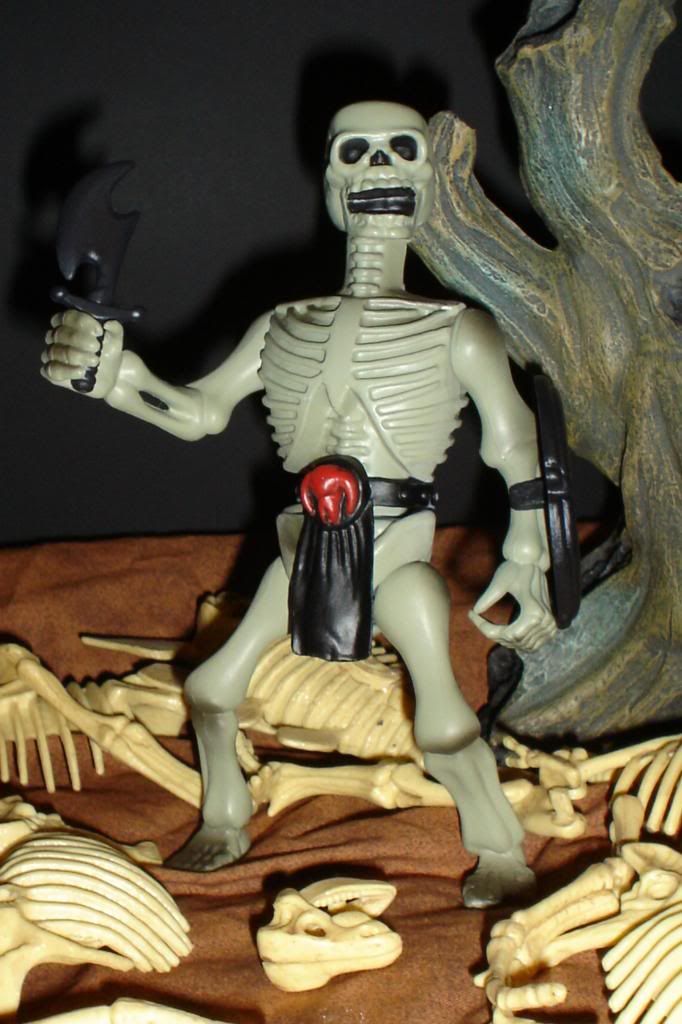 This archfiend is the "ultimate evil edition"...apparently since he is grey and not off-white. Oh, and his belt emblem is red. Oh, and he has a lousy little knife as opposed to the standard archfiend's BIG HONKIN' SWORD! Playah please! The ultimate evil guy shoulda had the bad-ass sword. I'm switching 'em out. My only
real
complaint is the highlights, once again. Although, I don't know why they decided to release two figures in the first wave which are basically the same. Eh, whatevs, at this point...just sayin'.
Now's a good time to go 'round back and show off the new date and manufacturer stamp. See? Eh, just another excuse to show off that sweet, sweet coccyx!
Here are the Zoloworld skeletons next to their "dad". Or is it "mom"? Eh, these were never very anatomically correct anyway. Both.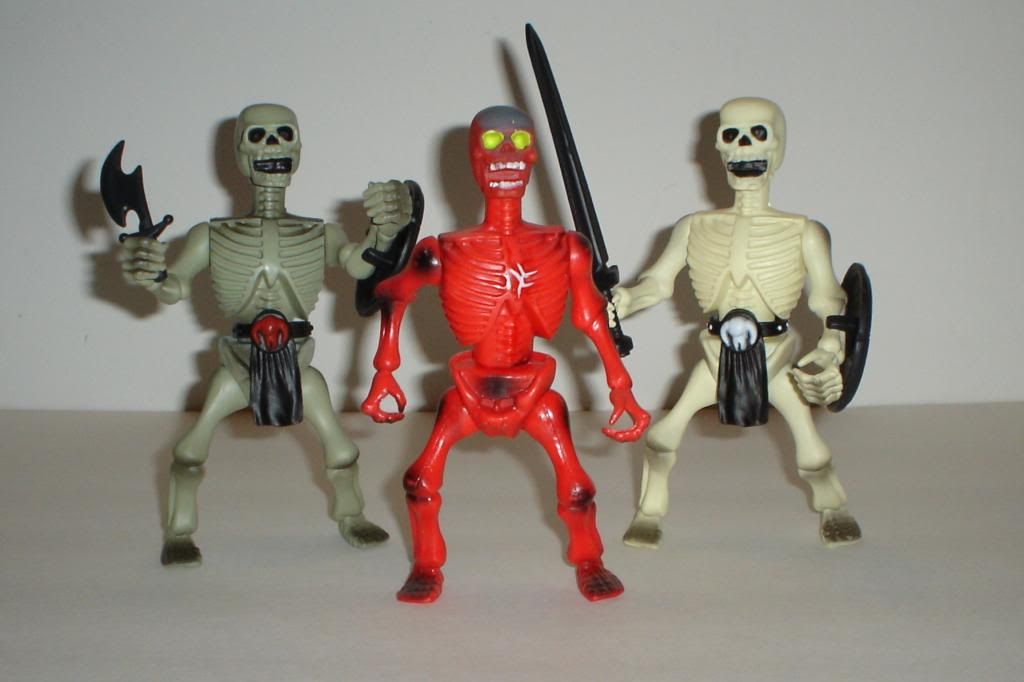 HEY! C'mon outta there! Who's in that closet?
Mmmm...a skeleton...
...Rrrrrrrred Skeleton!!!
(Anybody remember what Merrie Melodies 'toon that bit was from?)
Okay, enough of this sham...onto the last one outta the first four figures: Acromancer! And he's at the tippy top of my list...my favorite out of the gang so far. Speaking of tips, the prefix "acro-" means tip or end. And since many believe death is indeed the end, and this guy is supposed to be a warlock of death and all...makes sense. Plus, if you add "-mancer" to just about anything, it sounds cool.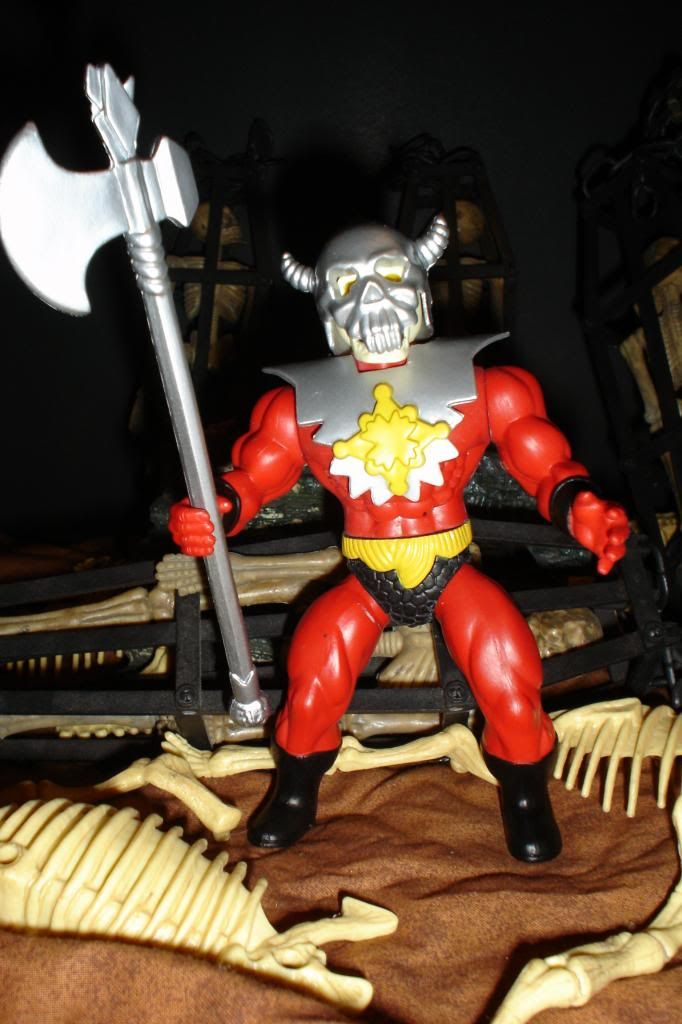 He uses mostly parts from the old Conan Jewel Thief figure.
Recognize that helmet? It's from the Ogra figure from Galoob's Golden Girl line! Now, it's made of hard silver instead of soft black. I'll admit I initially had trouble getting Acromancer's helmet off. But, after some careful wiggling, it popped! Whattya know.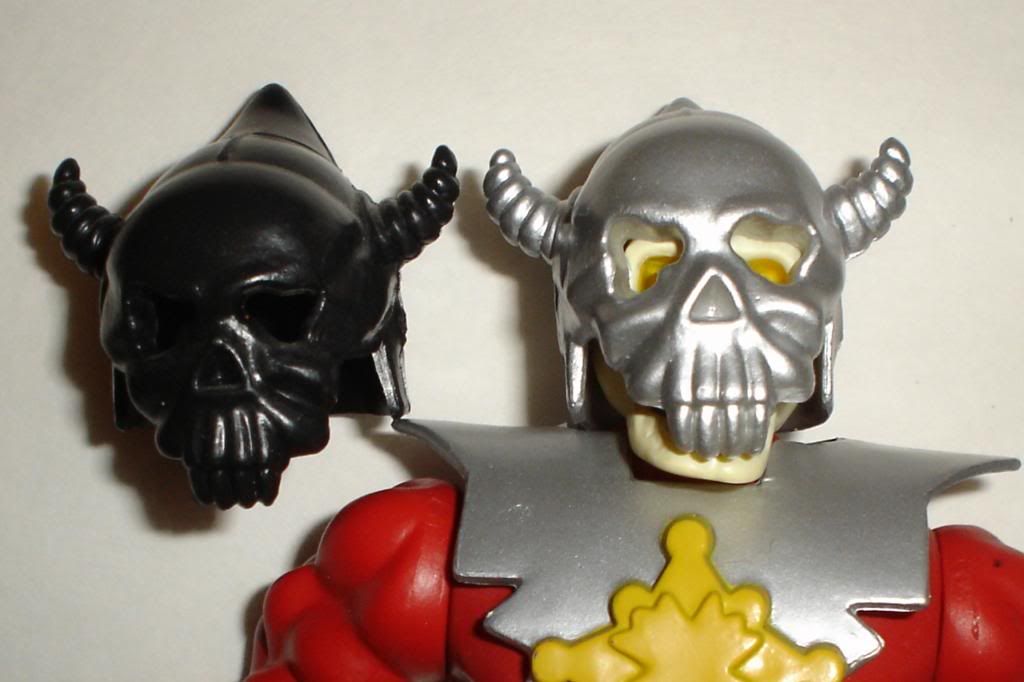 You'll take note the skull head is smaller. Compare it to the Archfiend's normal noggin. Probably to accommodate the helmet, obviously. He's got yellow eyes...so help me, he's got yellow eyes!
Well, all's well that ends well. Nice figures. If you dig MOTU knock offs, and just want a "new" line that celebrates 'em...knock yourself out. No major complaints, really aside from the few quibbles I'd mentioned. Here's a parting shot of the whole gang:
Yeah, there are already two new figures being show off one their site. There's also supposed to be some kinda accessory packs coming as well...but I'd haven't seen pics yet. I don't wanna come across like I'm plugging these or something, so no links for you! Do your own dirty work. Oh...oh...I'm sorry! Did that come across to
mean
? Well...TOO BAD! HA HA HA HA HA HA!!!
I do wanna see more of these. I'd also like to eventually maybe see some new parts in addition to the old Remco ones. As for Warlords and Warriors? Not sure. If those somehow got made, I'd go for those too...KO mania knows no loyalties. All I gotta say is, we best be gettin' a giant ant for these guys to ride on one way or another...or I'll
make the world burn
! Toodle pip.